Skip to Content
Upgrade Your Ride with RV Remodeling in Moreno Valley, CA
Your RV is literally a home on wheels. Don't you want it to be a place of comfort and relaxation? A place where you can unwind after a day of driving or sightseeing? Foothill RV is here to help you transform your RV into a place that feels cozy and comfortable. We complete all types of RV remodeling projects at our location in Moreno Valley, CA, helping customers get their RVs ready for the annual camping trip or a trek across the country. Whether you want to completely redesign the interior of your ride from floor to ceiling or you're just looking to update a few key components, our team is the one for the job. When we're done, you'll love your RV so much, you may consider moving in permanently. Contact us today to learn more about what we can do.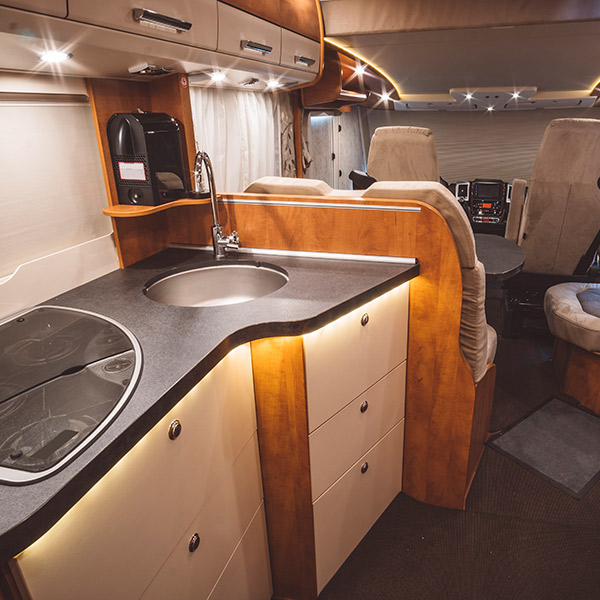 How We Can Upgrade Your RV
There are hundreds of ways you can upgrade the interior of your RV. You'll have no shortage of options when you work with the team at Foothill RV. Even if you aren't sure exactly how you want to upgrade your RV, we'll help get you started by discussing the current state of your RV and how you feel it could be improved. Together, we'll create a plan that will totally transform your RV and get it road-ready for you and the family. We've put together a few of our most popular remodeling services, but we do much more than this. If you have a specific idea in mind, just ask! We can likely do it for you.
Our Remodeling Services Include
Create New Sleeping Quarters
Design a luxurious space to catch some z's while you're on the road with the help of our team. We can redesign your current bedroom area or create a new space with bunks for the kids.
Expand Storage Space
If you're planning a long road trip, you need additional space to store essential items for the road. We can install new cabinets to ensure you have enough space for everything you need.
Upgrade Kitchen
Add new appliances, cabinets, countertops, and more to create a beautiful new kitchen space where you can prepare meals while on vacation. We'll ensure your new kitchen is equipped with all the essentials.
Upgrade Bathroom
Just because your RV bathroom is small doesn't mean it can't be gorgeous. We can upgrade your shower and vanity to create a space that looks and feels just as good as being at home.
Flooring Replacement
Today's RVs do not lack in style or comfort. You can outfit your RV with luxury vinyl, cozy carpet, ceramic tile, and so much more. The possibilities are endless when you work with Foothill RV.
Contact Us Today for RV Service & Upgrades!